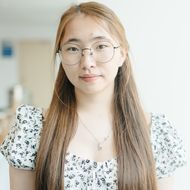 Ganjargal Ganbaatar, HSE Preparatory Year alumna from Mongolia
I finished high school in Ulaanbaatar, Mongolia, and decided to go to university in Russia. I heard about HSE University from my sister and friends who studied here. I have never been to Russia before, so the Prep Year was my first time.
Learning Russian is interesting and difficult at the same time
I studied it for one year before coming to Russia, and I believe I have improved my Russian proficiency a lot here.
My first difficulties in Russia were related to extensive paperwork and particularly COVID-related bureaucracy. It was difficult for the first few days, because I didn't speak Russian. Russians speak very fast and look angry, but that is not how they are, it is just a manner of speaking. I was lucky to have a very attentive Russian neighbour in the dorm—she has become a good friend of mine. The dorm is great, with a lot of international students, and we are all friends there.
Everything is thrilling here, particularly HSE University—it is an outstanding university
I have participated in the Russian Speaking Club at the university. It's really cool, and I've met many interesting students and teachers there. It sometimes meets on special occasions, such as New Year, Maslenitsa and other holidays for tea-drinking and other activities.
The subjects I took as part of the Prep Year were Russian as a Foreign Language, Russian for Subject-Specific Purposes, Mathematics, History, and Social Studies. The hardest was Russian for Subject-Specific Purposes, since we had to memorise a lot of complicated terms in Russian. Mathematics was also a bit difficult when I could not understand the explanations in Russian.
But as my Russian progressed, it got easier
I participated in an event called Culture Café organised by HSE University, where I represented Mongolia. We got to know each other's cultures, traditions and food. The event attracted not only Prep Year students, but international students already studying at HSE University.
I have enrolled in a Bachelor's programme in Economics at HSE University. It is a Russian-taught programme. I am going to study for four years, and after graduation, I would like to work in Russia for a few years and then go home to work there. I'm considering the banking sphere or starting my own business.