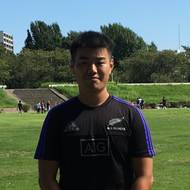 Nishimura Naoto
1. Why did you choose HSE International Prep Year?
I thought that I need to practice Russian language more. Before studying in the HSE International Prep Year course, I had studied Russian language for 1 year. So, I didn't have confidence to study comfortably in faculty.
2. How were your studies with Prep Year? Please describe your emotions and how did you feel about it?
We studied online all terms in prep year. It is not best way. But teachers energetically gave lessons. So, I spent great time.
3. Which faculty of HSE University did you enter? What do you expect from studies in HSE?
I will enter the faculty "Business informatics». I hope that university provides us good opportunities to study and high-level education.